Magento Open Source vs. Adobe Commerce - Features, Pricing & Support
Decide between Magento Open Source and Adobe Commerce for your eCommerce store? Here's an in-depth comparison of the two versions' pricing, features, and support.
Mark Shust
Hey friends! 👋 I wanted to sit down and have a real talk with you about two of the biggest e-commerce platforms out there: Magento and Adobe Commerce. As someone who's helped build tons of online stores over the years, I get asked these questions all the time.
Which one is better?
What's the difference between the open source and paid versions?
Is one easier to use than the other?
These are all valid questions! That's why I'm putting together this straightforward comparison in hopes that I can help clear things up once and for all.
My goal here isn't to convince you one way or the other. I just want to arm you with the facts so you can make the best choice for your business. I'll be real with you about the pros and cons of each based on my own experiences building on these platforms, and will even mention a few things that you'll never hear an Adobe Partner say.
Sound good? Awesome! Let's dive in.
Open Source vs. Commerce
When looking at Magento and Adobe Commerce, one of the first decisions you'll need to make is whether to use the open source or paid version. Let's break down the key differences.
Magento Open Source is free to download and use. It provides a flexible, customizable eCommerce framework, which is also used as a base for Adobe Commerce. There is no official support from Adobe since this an open source project, and it needs to be hosted on a platform outside of Adobe's architecture.

Adobe Commerce (formerly Magento Enterprise Edition) is the paid, enterprise version of Magento. The core code of Adobe Commerce is essentially Magento Open Source with a set of enterprise-specific commercial modules included. Commerce comes some additional features and functionality, official support directly from Adobe, automatic security patching, and hosting on Adobe's architecture with Adobe Commerce Cloud.
Is Magento now Adobe Commerce?
There has been discussion in the past that "Magento is now Adobe Commerce", but this messaging is really a miscommunication between the tech and marketing departments at Adobe. If we get into the technical specifics, Adobe Commerce is really a descendant of Magento, rather than a replacement for it.
While Adobe Commerce provides more "out of the box" functionality than Magento Open Source, they both offer the same level of flexibility and customization because both versions share the exact same underlying codebase. Which version you choose depends mainly on your business needs and budget, but there is no clear-cut recommendation of one over the other, even though one version is marketed as superior over the other.
Magento Open Source is still very much alive and has not been replaced by Adobe Commerce, even though the messaging sometimes appears otherwise. There's no reason the two versions should be butting heads -- they are essentially siblings, with each having their place in the market and serving different needs.
With that clarification out of the way, let's dive into the main aspects of what makes each version unique.
Functionality and Features
When it comes to functionality, both Magento and Adobe Commerce deliver very powerful options, but Adobe Commerce is more fully-featured. For a paid product, this is to be expected! And Commerce definitely delivers much more of out-of-the-box functionality when compared to Open Source.
Let's compare some key features:
The core commerce experience such as browsing products, managing the cart, and a customizable checkout is existent on both platforms. This solid base explains why the Magento framework has been such a popular choice, and has dominated the mid- to upper-level market for some time.
For marketing tools, Adobe Commerce integrates with Adobe Experience Manager and its suite of other Adobe services. This delivers a great customer experience, and offers benefits that you just can't get from any other offering, including Open Source. Remember though that by using this suite, it may create a vendor lock-in of sorts, which may tie you to the Adobe ecosystem for the foreseeable future (which may or may not become an issue depending on your business needs).
Reporting and analytics are a strength of Commerce. The built-in tools can provide you with deep insights into your business. Open Source requires the integration of third-party services to accomplish a similar offering, which could present a disjointed process from the rest of the platform.
Additional Commerce-only modules are what make Adobe Commerce, Adobe Commerce. These modules lay on top of Magento Open Source to create the feature set that is only available with Commerce. This includes Live Search powered by Adobe Sensei, seller-assisted shopping, a complete B2B toolset, business intelligence tooling, access to Adobe App Builder, and more. This is the true differentiating feature between the two versions, so if you need these features, Commerce is a solid choice. Magento Open Source also benefits from these features, as sometimes they make their way down to this version, as was the case with the wonderful Page Builder content management tool which is now available in Open Source.
Adobe Commerce Cloud has become a large benefit of Adobe Commerce. Hosting and infrastructure being supplied by Adobe offers a compelling reason to choose it. Magento Open Source cannot be run on ACC, so an external service provider must be chosen to host for your storefront. For Open Source, I always personally recommend choosing a managed hosting solution provider who is also an Adobe technology partner, as this helps to close the gap between the two platforms.
When it comes to flexibility, the open source nature of Magento gives developers room to build truly custom features and workflows. And because Adobe Commerce shares the same codebase as Magento, it also benefits from the value that an open source platform provides.
Both deliver excellent performance, given proper hosting and development practices. Adobe Commerce does come with a few performance improvements such as improved indexing and special performance enhancements, but these are really only noticeable for extremely large storefronts that can benefit from extreme scaling optimizations.
If you need the extra module functionality of Commerce, along with the marketing tools and reporting insights, and desire to have support & hosting provided directly from Adobe, then Adobe Commerce is a clear choice.
If you are alright with conducting a fit-gap analysis on all the features that you need when comparing Commerce vs. Open Source, or are ok with building custom modules that contain the exact functionality that your business needs, then Open Source is also an extremely solid choice.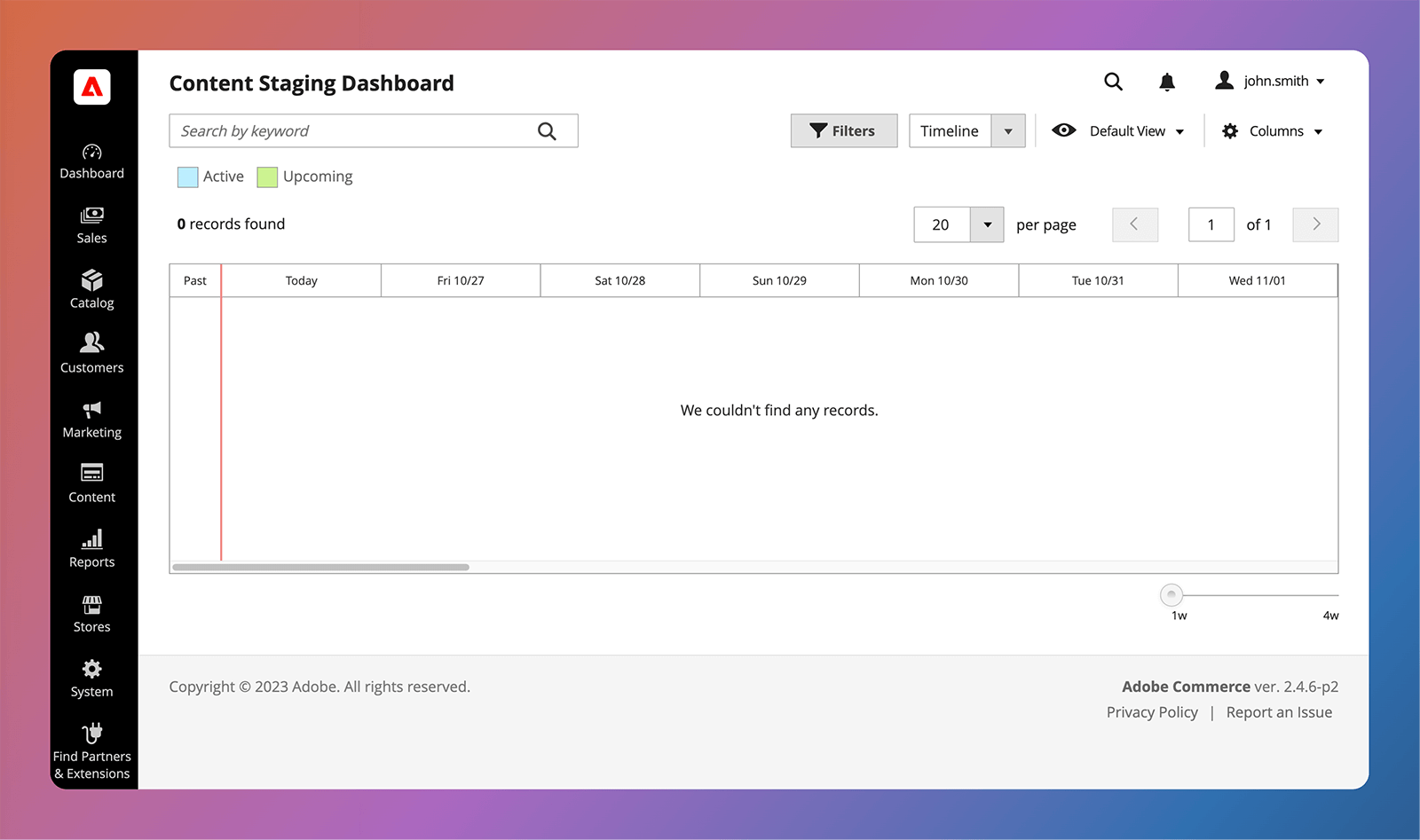 Features such as Content Staging are only available in Adobe Commerce.


I've just mentioned it before, but it's worth mentioning again: Magento Open Source and Adobe Commerce share a common codebase.
So even though Adobe Commerce is targeting more advanced builds of Magento Open Source, there's no reason that an Enterprise-level company can't also build their entire eCommerce infrastructure on top of Open Source instead of Commerce. But in most cases, this could lead to additional work being conducted or carried out, rather than simply choosing Commerce from the onset.
Ease of Use
When running an eCommerce store, it's important to choose a platform that allows for the easy management of products and orders, as well as a user-friendly interface for adding and updating content.
So, how do these two editions compare when it comes to easy of use?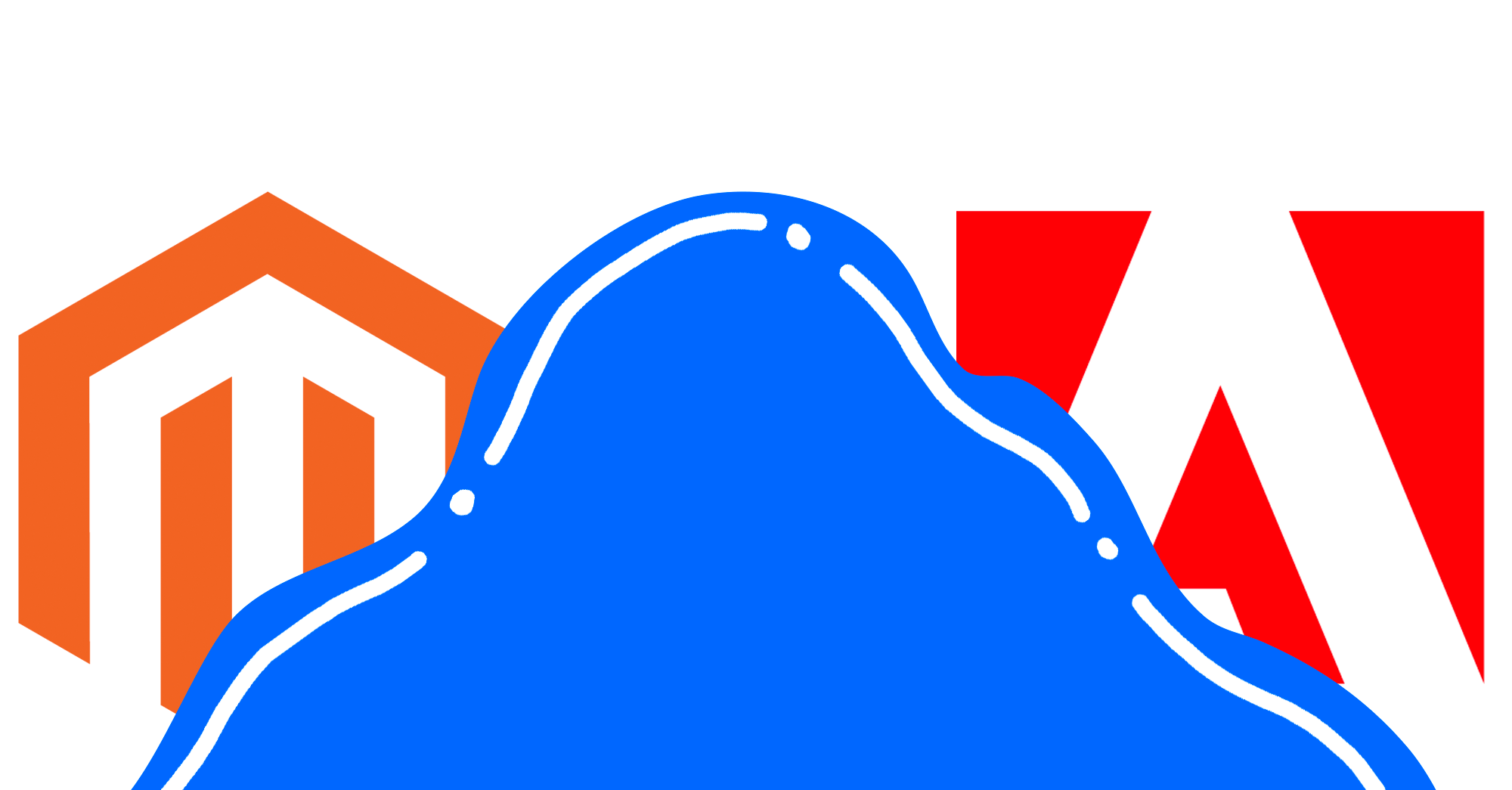 The admin interfaces for both platforms allow you to access all backend functions like managing the product catalog, looking up customers, and sales administration. They are skinned a bit differently from each other, but carry out just about the same functions. Additional features from the enterprise modules in Adobe Commerce provide additional reporting, B2B, and omnichannel personalization, just to name a few.
For managing products, Magento Open Source and Adobe Commerce have the exact same product management capabilities. Both versions include the ability to manage all product details and fields, related products, up-sells and cross-sells, and bulk update capabilities to carry out mass actions.
Order management is robust in both versions, and also share just about the exact same features, including the ability to manage and edit orders and invoices, generate credit memos, and manage shipments. Adobe Commerce has a slight edge here though, with it's ability to process returns with return merchandise authorization (RMA) numbers.
Maintenance and upgrades are also very similar with both Magento Open Source and Adobe Commerce. All updates are managed with PHP's Composer command-line tool, and could be quite an involved process. Adobe's technical team can create and provide bug and security patches for your Commerce store, which is something not possible for Open Source. Both versions have similar ways of applying patch fixes that are applied during deployment time, but there are different methods to do so in each.
If you'd like to learn more about this, see the How Patches Work and Distributing Adobe Commerce Patches at Scale articles available on this topic.
Overall, they are extremely comparable to each other in terms of usage and management, and one version doesn't really offer any distinct advantage over the other when it comes to ease of use.
Pricing
Magento Open Source is a completely free, community-driven open source project. Adobe Commerce is also open source, but is executed on a commercial license which requires the purchase of a license from Adobe.
Here's a simple pricing comparison between the two versions:
| | Magento Open Source | Adobe Commerce |
| --- | --- | --- |
| License fee | Free | $15,000 - $100,000+ |
| Development Costs | $50,000 - $100,000+ | $100,000 - $250,000+ |
| Hosting | Self-hosted ($200 - $1,000+/month) | Adobe Commerce Cloud (included in license fee) |
| Maintenance & Support | None (community-based support) | Included in license fee |
Note that there is no exactly outlined pricing when it comes to Adobe Commerce.
A little known fact is that these license fees can often be negotiated. It is possible for two different merchants with extremely different financials to pay two completely different license fees, even though they receive they may receive the exact same deliverables as one another. It's important to be prudent and negotiate when it comes time to both purchase and renew your Adobe Commerce license.
To quickly break down a few differences to consider when it comes to pricing:
Magento Open Source is free, while Adobe Commerce has significant initial and ongoing licensing costs.
Adobe Commerce provides hosting on Adobe Commerce Cloud, though you can host Commerce on-premise if desired.
Development and maintenance costs are lower for Open Source due to less specific expertise required of the platform.
Only Adobe Commerce offers official support and SLAs.
The clear winner in price is Magento Open Source, though this may not always be the case. If you are a very large company, and/or your business requirements need the Commerce-specific functionality, oftentimes Commerce may be the more affordable option. The ability to use Adobe Commerce Cloud and get direct support from Adobe are two huge benefits of Commerce, and these may lessen your total cost of ownership.
Community and Support
Whichever platform you choose will eventually become a very important part of your business. Having a thriving community and strong support system is crucial.
So, how do Magento and Adobe Commerce compare with suppor aspects?
Magento lacks official support, since it is a free an open source offering, however it has an extremely large and active open source community. There are Meet Magento community events hosted all over the world, multiple Slack groups and discussion forums available, and developers all throughout the ecosystem willing to help out.
Adobe Commerce has access to official support, but it requires a paid plan from Adobe. That said, you'll benefit from having service-level agreements (SLA's) in place to ensure your support requests will be answered. Commerce also benefits from access to the same Magento community as Open Source, as many developers and agencies who work with Commerce on a day-to-day basis and are also intricately familiar with Commerce.
Both versions have strong third-party module support and actively support both Magento Open Source and Adobe Commerce with their paid offerings. There is a wide selection of modules available for both Open Source and Commerce. But since Commerce is under a commercial license, there are really no modules available that extend its built-in functionality.
Both versions also have access to the official Adobe Commerce Developer Documentation site. While the naming is lending itself to be specific to Adobe Commerce, it is also very much applicable to Magento Open Source. This site contains a wealth of information about all things related to Magento programming, though sifting through all the information could present a challenge.
There are many other useful online developer resources for learning Magento that support both versions, including our own Magento courses. This allows agencies and merchants to be quickly trained on both Open Source and Commerce, and eventually become Magento Certified Developers.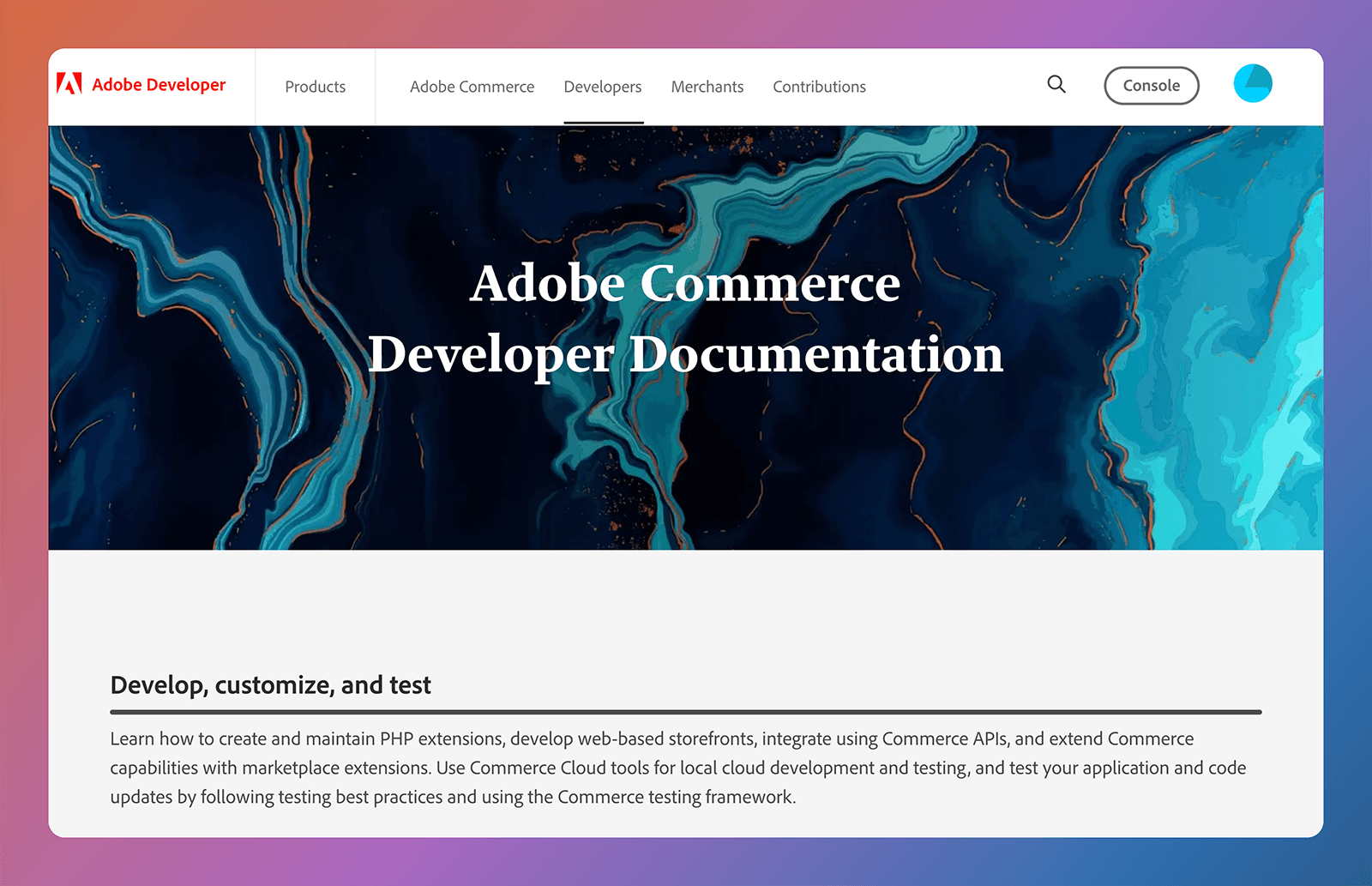 Open Source and Commerce both have access to a thriving community, while Commerce is the only version with official support. While there are differences in module and training offerings, both versions are quite heavily supported by reliable third-party partners. If you think your company would benefit from having direct support from Adobe and you don't mind the extra costs involved, Commerce is the easy decision here.
Version Comparison
So we're to the nitty-gritty — which version should you choose? Well, a list of simple pros and cons may help with your decision, so let's look at a table of features and what each has to offer:
| | Magento Open Source | Adobe Commerce |
| --- | --- | --- |
| Cost | Free | Paid, starting at $15,000/yr |
| Support | Community support | Official support from Adobe |
| Hosting | Self-hosted or managed by third-party | Hosted on Adobe Commerce Cloud |
| Functionality | Core eCommerce features | Additional Enterprise, B2B and Marketing modules |
| Customization | Very flexible due to open source nature | Flexible but possibly limited by commercial licensing |
| Performance | Excellent with proper hosting and development | Additional performance improvements for extremely large storefronts |
| Community | Large and active community | Access to the same community, but to a lesser extent |
While both versions are similar, each also has distinct benefits and drawbacks in terms of support, features and functionality.
So, which should I choose?
When it comes to eCommerce, both Magento and Adobe Commerce are amazing pieces of software and leaders in the space. They each offer extensive features and functionality not available within other commerce platforms.
I'd recommend doing your own research and comprehensive analysis of the two platforms to find out which version best aligns with the needs of your company. Which version you choose will depend upon your desired levels of support and features, compared against what each of the versions provides.
There is no hard-cut answer here. Many enterprise-level companies will still choose Magento Open Source, since it's out-of-the-box features and functionalities, at zero cost, is an amazing value proposition. While other smaller or medium-sized businesses may end up choosing Adobe Commerce to lesson their development burden, or fill the gap between their needs and features available in the platform.
I hope this explanation of my experience with both platforms helps decide which platform is right for you ✌️
And when you're ready to start learning either system, here are a few resources that can help:
Learn core fundamentals with Magento 2 Coding Kickstart (1,000+ students)
Expand your Magento skillset with all courses & lessons (600+ students)
Learn visually with blocks of code & inline comments (3,000+ students)